Milly - Seniors' village
Located in the middle of an idyllic landscape, far from the hustle and bustle of the city, the Village of Seniors is a completely new concept in Romania, of a residential center for the elderly who need a quiet place to retire.
The Village of the Seniors consists of several houses, it has a very large yard that includes a vegetable garden and a greenhouse, an orchard, a fish pond and a farm. In this way our guests will feel here as in an authentic traditional Romanian village having at their disposal a wide range of medical and leisure facilities.
LOCATION
The village of seniors is located in a place free from noise and pollution (in the vicinity of Runc Forest – protected area – and 36 km from Piatra Neamț), at the entrance to Buhuși from Bacău. The perimeter of the complex is surrounded by trees and hills which makes this place an authentic oasis of peace in the middle of nature.
FACILITIES
Accommodation is provided in family-type homes with qualified staff able to respond in a friendly and specialized manner to the socio-medical needs of the elderly.
The rooms are 2, maximum 3 places with bathroom and closet for personal belongings. We also offer the possibility to bring various personal items, furniture, etc. to make our guests feel at home.
Each house has a welcoming living room for socializing or leisure activities.
The kitchen is authorised and the cooks prepare diversified menus daily and adapted to the regime of each beneficiary, we try to use products from our own farm and garden.
Fully equipped medical office for medical care plus physiotherapy and medical recovery room.
The landscaped garden, approx. 3000 sqm, has alleys where the elderly can take walks alone, or accompanied by staff, with benches and terraces where you can play backgammon, chess or other games.
The mini-farm set up in the village offers organic products for a diet suitable for the elderly and customized according to the dietary restrictions.
SERVICES
Accommodation, meals and personal care (for a short or indefinite period)
Permanent medical care
Physical therapy and medical recovery
Accompanying the walk for individual activities
Fishing pond
I breathe for families who care for an elderly person
Laundry, personal care and housing services
Internet access, TV, social activities and gardening
Recreational activities and themed parties related to public holidays and birthday celebrations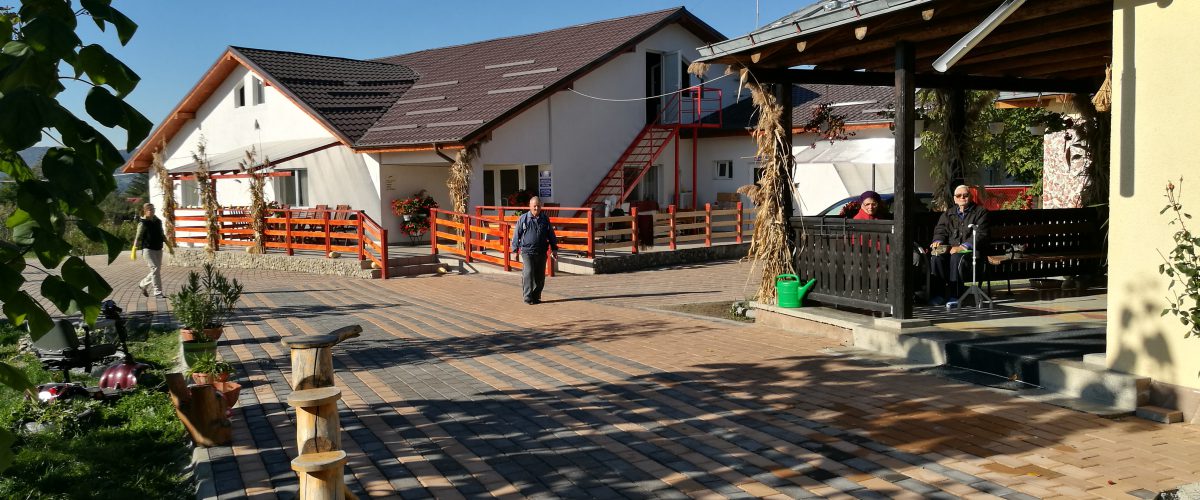 For information on costs and service packages, registration and reservations, contact us: Tel: 0334566413; 0234.585658; mobile: 0746.125224 e-mail: satulseniorilor@fsc.ro Or you can visit us directly in Buhuşi, str. Libertății, nr 325
The Milly Seniors Village project is made possible by the support of two special friends from UK:
Mrs. Judith Darmady, who is no longer among us; we'll always remember her kind support and significant contribution; and Mr. Colin Williams, who gave us friendship, guidance and funding to start the project. The name of the centre is "Milly" in dear memory of Colin's beloved wife!
The rehabilitation works were also supported by several local sponsors, the most important contributions being made by the companies Dedeman and Barrier.